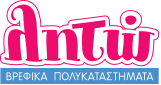 Child
---
At Leto baby nursery store, you will find proposals for a wide range of safe and reliable products for you and your baby's needs, from your pregnancy until your angel's first steps in life.
Here you can attain everything you need and dream of: nursery products, cots, prams, linens, clothes and shoes, as well as books, toys and outdoor equipment. At our store you will find a wide variety of brands chosen with the knowledge and expertise of our buyers, picked with the aim to satisfy every need as well as every sweet wish.
Visit our store to talk to our experienced and trained staff who can guide you through your journey. Find out about our many offers!
T: +30 2610 640840
E: patra-orders@letoshop.gr